Tile Cleaning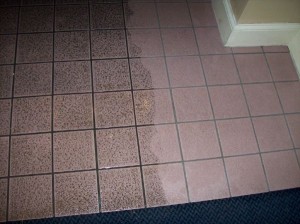 Tile and grout cleaning can be a very tricky proposition. Any cleaning company can come out and clean your tile/stone and grout, however, using the right equipment and the best cleaning solutions for the job, will make a tremendous difference in the overall outcome of the service. If someone doesn't know what they are doing, your grout's surface and its deeper layers can become damaged. This will not only affect how it looks and its texture, but can possibly lead to its rapid deterioration and decay. It takes the eye of a trained technician to determine the best approach. Don't leave your property to risk. When looking
for professional tile/stone and grout cleaning, look no further.
Because of the inherent challenges associated with the texture and composition of grout, we employ equipment and cleaning solutions specifically designed to attack these types of problems. Dirt and deposits can fasten themselves deep into the recesses and crevices of your grout. Unfortunately, regular cleaning solutions and tools simply can't clean them properly. We use powerful cleaning solutions, combined with a vacuum suction to "extract" the dirt and grime from your grout and tiles. This is then followed-up with a high pressure rinse, completely eliminating any trace of dirt or discoloration.
Upholstery Cleaning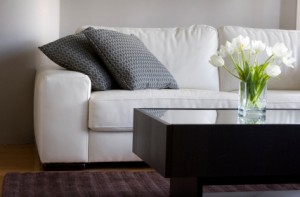 Your furnishings can be the most valued and treasured items in your home. We treat them with the care and concern that you expect, and nothing less. To ensure no damage occurs to your valuable upholstered furnishings, we first check for color fastness. Then we recommend the right solution for use on your delicate fabrics. If you decide you'd like to use our green upholstery protector which is both safe for children and pets, and is also "E.P.A. certified," please let us know, and we can apply it immediately following your cleaning. It not only protects your upholstery's fabrics against dirt, stains and odors, but also prolongs the life of your upholstery as well. You may want to give its application special consideration especially if you have pets. Upholstery cleaning requires extra special attention to detail.  Use only those technicians who are properly trained in upholstery cleaning, and its care.  Don't risk your fine furnishings with poorly trained technicians.
Mattress Cleaning
Are you concerned about the possibility of exposure to allergens or other harmful elements contained within older mattresses inside your home? Dust mites along with their microscopic remains and fecal matter, can accumulate in one's bed or mattress over time.  They can be responsible for a variety of maladies including allergies, and an increase in asthmatic symptoms in those with greater sensitivity. We have a system that can remove dust mites, their micro-particles, including mold, mildew, pollen, spores, and other bacterial substances that dust mites can leave behind. Keep your family safe and healthy.
Give us a call today for a free estimate
614-946-3453!