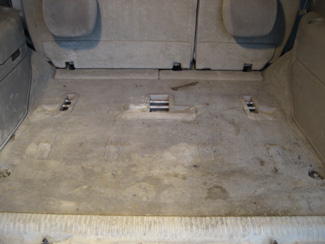 Interior Deep Steam Extraction with Odor and Stain Removal
This method is a process where a fine spray of 180 degree water is used to force dirt out of the carpet which is sucked up by the vacuum slot immediately in front of the spray. This process consists of spraying a solution of water and detergent into the carpet pile, scrubbing than recovering the water and soil with a powerful vacuum into a holding tank.
This hot water extraction process is the only method that will thoroughly clean out any detergents and soil from your carpet at the time it is cleaned. This method will also rid your vehicle's carpet of allergy causing items such as dust mites, smoke, pet dander, germs and bacteria.
We use state of the art hot steam extractors combined with professional grade odor bacterialcide counteractants which kill odors at the molecular level. This combination cleans odors and leaves that renewed feeling of freshness to your vehicle's interior.